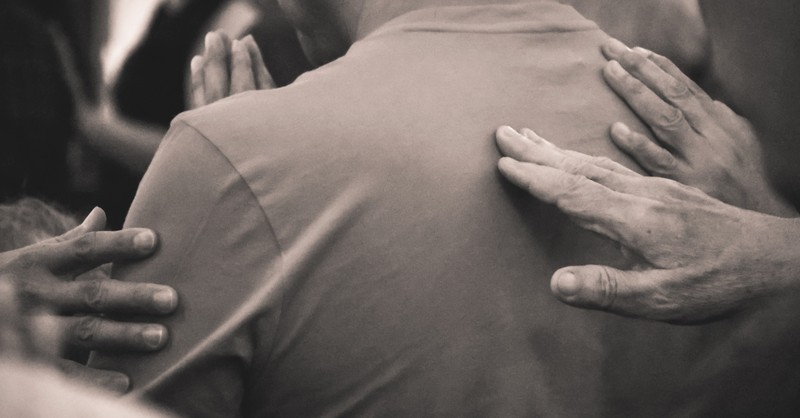 One of the most uncomfortable topics that any church has to deal with or talk about is church discipline. In a broad sense, the "disciplines" of a church could refer to any teaching that goes on within it, such as positive discipline, formative discipline, and negative or corrective discipline.
But when most people today use the phrase (and every time I have ever heard it), they are referring to the process of corrective discipline or even the final stage when someone is removed from a church.
Someone that should undergo church discipline by a church is someone who said they loved Jesus but are now harboring obvious, willful sin that they have not repented from.
As Mark Dever explains, "The phrase that Christians use to describe getting put out of the church. Not necessarily literally, you cannot attend a church anymore, but you should not come to communion, you should not come to the Lord's Supper, you should no longer consider yourselves a member of this church."
Another (older) word to describe the act of removing someone from a church body is "excommunication."
Just because the concept of church discipline is found in Scripture and instructed by Jesus as well as the apostles does not mean that it has been handled well.
There are probably more examples of Church leaders either treating discipline wrongfully and hurtfully or completely ignoring it (at least not publicly, which allowed rumors and gossip to run rampant).
Because of this issue, we have a very real modern-day phenomenon called "church hurt" due to people being hurt by the church leadership or membership.
"Church hurt" is not always the direct result of the mishandling of church discipline, but it is often connected to how churches deal with (or choose not to deal with) someone's actions. Again, this could be because someone's sin went untreated, or they were treated in a very unhealthy, unbiblical way.
So, what does the Bible say about healthy or correct church discipline?
1. It's Not Easy, but Necessary
Correcting behavior, in general, is not necessarily a pleasant experience — for anyone! This does not just go for the church; it goes for every type of discipline in life. As the writer of Hebrews puts it, "No discipline seems pleasant at the time, but painful."
Instead, the point of discipline or being disciplined is to "produce a harvest of righteousness and peace for those who have been trained by it" (Hebrews 12:11).
So, whether a parent is disciplining a child, a coach or teacher is coming up with a disciplinary plan for their player or student, the church is disciplining a member, or we are disciplining ourselves — the goal is righteousness and peace.
2. It's Not Discriminatory
Church discipline does not mean that someone is unloved, unliked, or even unwelcome to attend a worship service or some other functions of the church because of who they are or what they have done.
In fact, as Dever also teaches, they will hopefully still attend services in order to hear the truth, wake up, and repent from their sin.
Of course, church discipline also does not mean that someone's salvationis removed. That would not be possible because our salvation is never based on an individual's ability to be holy or the church's ability to make them holy.
Paul states clearly in Ephesians 2:8–9 that our salvation comes as a result of our response of faith to God's grace. He then writes, "This is not your own doing; it is the gift of God, not a result of works, so that no one may boast."
3. It Increases Wisdom
Contrary to how we feel about it or what experience we may have had with it, discipline is a good exercise. Receiving correction and discipline is actually a sign of wisdom, according to Scripture. One of the common themes in the Book of Proverbs is discipline.
For example, within the wise sayings of Solomon we find that if we love discipline that will mean that we love knowledge (12:1) if we heed correction, we show prudence (15:5), and if we listen to discipline, we will show others the "way to life."
However, if we hate correction then we are stupid (12:1), if we despise wisdom and instruction then we are foolish (1:7); and if we ignore correction, we will lead others astray (10:17). So how we view discipline not only affects our lives but also people that are watching our lives.
4. It Reveals the Father's Love
When we look at the big picture of the Church, when parents discipline their children or when a church disciplines her members, we are following the example that God has already set for us when he disciplines his sons and daughters.
We see God's correction and discipline all throughout the pages of the Old Testament and New Testament. God makes his intentions and motivations clear when he says in Revelation 3:19 that "Those whom I love I rebuke and discipline."
Solomon wrote about God in Proverbs 3:12 when he said that "the Lord disciplines those he loves, as a father the son he delights in." As the late J. Vernon McGee wrote in his Thru the Bible commentary on Matthew 18, it is not God's will that we should "smother trouble and cover it up."
5. It Calls for Repentance
If we discipline ourselves and correct our own behaviors, then there will be no need for God or others to step in and provide discipline for us. It is one of the main ways that we live out our own faith.
In the same way that the Old Testament priests had to confess their own sin before entering the Holy of Holies (lest the righteousness of God result in swift judgment on them), we must "examine" our own lives. Because "if we judged ourselves truly, we would not be judged" (1 Corinthians 11:28–31).
This is why Paul the Apostle decided that he would discipline his own life in order to keep him from having to be discipline by others or (worst case) be "disqualified."
He wrote in 1 Corinthians 9:27, "No, I strike a blow to my body and make it my slave so that after I have preached to others, I myself will not be disqualified for the prize." This is pretty convicting to me.
6. It Creates Accountability
Lastly, Jesus lays out a plan for correcting a brother or sister in Christ in Matthew 18. He states:
"If your brother sins against you, go and tell him his fault, between you and him alone. If he listens to you, you have gained your brother. But if he does not listen, take one or two others along with you, that every charge may be established by the evidence of two or three witnesses. If he refuses to listen to them, tell it to the church. And if he refuses to listen even to the church, let him be to you as a Gentile and a tax collector."
Paul later applies this (with some slight modifications) to the correction of pastors or elders in 1 Timothy 5:19. While we must be careful in how to accuse church leadership, God's Word is clear that no one is above discipline, and we must all be held accountable because (as we said already) it is good for us.
In context, the themes leading up to the passage about church discipline in Matthew 18 are Christian humility, grace, avoiding and fighting against temptation to sin, and reconciliation.
In fact, the analogy that Jesus gives immediately before the passage we are dealing with is of a shepherd going after one lost sheep that has gone astray because of his care for it.
This helps us get in the right frame of mind when needing to discipline someone. This is about rescuing them from sin and helping them repent, not excommunication (although it could result in that).
We also need to understand (according to Jesus in Matthew 18) that when we hold one another accountable and lovingly correct another Christian's behavior, we are essentially being God's representative in the church and performing a godly task that invokes (or possibly evokes) God's presence in a special way.
Jesus explains that "whatever you bind on earth shall be bound in heaven, and whatever you loose on earth shall be loosed in heaven. Again, I say to you, if two of you agree on earth about anything they ask, it will be done for them by my Father in heaven. For where two or three are gathered in my name, there am I among them" (Matthew 18:18-20).
Why Does This Matter?
Church discipline is a hard "pill" for all of us to take and even harder for church leaders because of the great responsibility that comes with their authority.
May God give us more wisdom to learn to discipline ourselves better, to accept correction and discipline from others, and to be bold (or have "counter-cultural courage," as one writer put it) in giving out loving correction to other believers for the goal of "righteousness and peace."