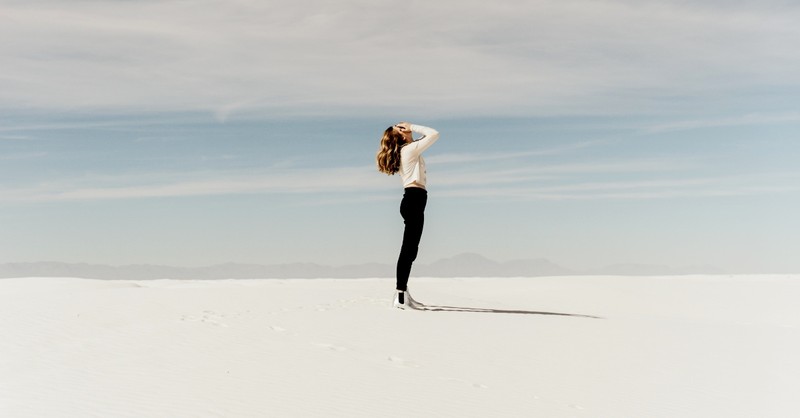 It saddens me and scares me that I'm a 27-year-old single woman and have not yet met any special guy. Sometimes, I feel like something is wrong with me—like I'm ugly or something. I want to be in a relationship, but I feel as if God has destined for me to be alone. I don't know what to do because guys won't talk to me, and the ones that have tried I'm just not interested in. How do I get through this until someone comes along?
Let me start by saying that you are not alone. I have known many young ladies who felt this way and have grappled with these doubts myself for years. But God doesn't want you to "get through this until someone comes along,"–His plan for you is so much better than survival!
He wants you to thrive and grow in confidence no matter what your circumstances. Here are a few things God has shown me over the years that helped me to not only navigate but even begin to embrace my time of singleness.
Stop Comparing
We know we shouldn't, but how difficult is it to avoid comparing ourselves to others in this modern society where every milestone is a social media post? And when we want something, doesn't it seem like everyone else is getting it?
For me, it became difficult to find anything on Facebook that wasn't an engagement announcement, a couple's photo shoot, or a wedding. And most of the women were at least four years younger than I was. I wondered what was wrong with me and woke up every morning feeling ugly and undesirable.
It wasn't until I took a step away from social media that I realized what was happening. Every person I saw online had become a measuring stick that I would hold up to my own life. And if I was too tall or too short, I felt like a failure.
Why don't I have a boyfriend? Why am I not married yet? Why doesn't my life match up with everyone else's?
Because it was never meant to. We're all on different journeys. My mom was married at 18 and had my older sister at 19. Others are married at 23, 35, even 60. There's no schedule, and the only footsteps we should be straining to follow are those of Jesus Christ.
"Follow God's example, therefore, as dearly loved children and walk in the way of love, just as Christ loved us and gave himself up for us…" Ephesians 5:1
Remember, a Man Will Not Complete You
A deep desire can feel like the one thing that will make us happy—the missing puzzle piece that completes the picture. But going into any relationship expecting that person to soothe all your heartache only sets them up for frustration and you for disappointment.
Our God has not given us a single need that cannot be met in Him. Our completeness, our wholeness, is dependent on Him alone.
Paul writes in his letter to the Colossians, "and in Him you have been made complete, and He is the head over all rule and authority" (2:10).
In Christ, you lack nothing. Your life doesn't begin when you meet a "special man." You can't wait for that magical (fictional) moment when you find what you've been missing and everything becomes clear. And none of us are meant to simply pass time until we find a soulmate.
Surrender Your Desire to God
Now comes the hard part, and the most important: spend some time with God and tell Him the desires of your heart. Tell Him how you feel, your fears and hopes. Press into Him. Ask Him to guide you on the path He has for you, and then keep asking.
"Hope deferred makes the heart sick" (Proverbs 13:12). This is a bitter truth, but a promise follows: "desire fulfilled is a tree of life."
That sounds great, doesn't it? But how do we exchange a sick heart for a tree of life? Take a look at these invitations in Psalm 37:4-7.
"Delight yourself in the Lord; and He will give you the desires of your heart."
"Commit your way to the Lord"
"Trust also in Him"
"Rest in the Lord"
"Wait patiently for Him"
That heartsickness, those feelings of ugliness and inferiority, won't be whisked away when you find a man. Delight in, commit to, trust, rest, and wait patiently for God. He wants to heal your heart now with His truth.
Cling to the Truth
God speaks to all of us in different ways, but the Bible is always a dependable source of truth. Here are a few verses that He has used to speak to me in my loneliest moments.
"Let your steadfast love comfort me according to your promise to your servant." Psalm 119:76
"Indeed, the very hairs of your head are all numbered. Don't be afraid; you are worth more than many sparrows." Luke 12:7
"You keep track of all my sorrows. You have collected all my tears in your bottle. You have recorded each one in your book." Psalm 56:8
"Do not be anxious about anything, but in every situation, by prayer and petition, with thanksgiving, present your requests to God. And the peace of God, which transcends all understanding, will guard your hearts and your minds in Christ Jesus." Philippians 4:6-7
"As a young man marries a young woman, so will your Builder marry you; as a bridegroom rejoices over his bride, so will your God rejoice over you." Isaiah 62:5
"For you created my inmost being; you knit me together in my mother's womb. I praise you because I am fearfully and wonderfully made; your works are wonderful, I know that full well. My frame was not hidden from you when I was made in the secret place, when I was woven together in the depths of the earth. Your eyes saw my unformed body; all the days ordained for me were written in your book before one of them came to be. How precious to me are your thoughts, God! How vast is the sum of them! Were I to count them, they would outnumber the grains of sand— when I awake, I am still with you." Psalm 139:13-18
God made us to crave relationships. It is your deepest desire and mine because He fashioned our hearts to be satisfied by connection—first with Him and then with others.
So, ask God for that special relationship that you want and then seek Him. Invest in your other relationships while you wait to see what God has in store for you. I don't know if it's a man or not, but I do know this: it will be more wonderful than either of us can possibly dream of.
"Now to him who is able to do immeasurably more than all we ask or imagine, according to his power that is at work within us, to him be glory in the church and in Christ Jesus throughout all generations, for ever and ever! Amen." Ephesians 3:20-21